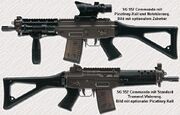 The 552 Commando is an assault rifle.
Weapon Information
Edit
This is Rainbow's standard issued assult rifle in Rainbow Six: Vegas[1] and Rainbow Six: Vegas 2[2]. The Swiss Arms Sg552 Commando is the third generation variant of the Swiss Arms Sg550 service rifle, the standad issue service rifle of the Swiss Armed Forces. Given it's design is influenced by the AK design, it is both durable, reliable, and easy to use. It has an ambidextrous select-fire feature allowing for use of semi-automatic, burst, and fully automatic fire and features a side folding stock. As a SBR (Short Barrel Rifle), it is best suited in real life for Close Quarters Combat.
In the game, the 552 Commando magazine holds 30 +1 rounds (without the use of a High Capacity Magazine) with a total of 8+1 magazines. It is capable of having different attachments such as a Laser Sight or an ACOG Scope and can also be equipped with what looks like a GemTech or Knights Armament Company surpressor.
It utilizes a rear diopter drum sight ala the Heckler and Koch G3 and a similar front hooded post sight, making for facilitative, reflexive aiming. It's direct competitor in the Special Forces Market is the Heckler and Koch G36C. It weighs in at around 6.5 - 7 pounds empty.