Rainbow Six: Vegas 2

Video Game
Genre:
Tactical/First-Person Shooter
Series:
Rainbow Six
Platform:
Xbox 360, PC, PS3
Release date:
March 18, 2008 (NA)
March 20, 2008 (EU)
Developer:
Ubisoft Montreal
Publisher:
Ubisoft
Status:
Post-Release
Rainbow Six: Vegas 2 (RSV2) is the seventh installment in the Rainbow Six series. Vegas 2 was developed and published by Ubisoft. The game is the sequel to Rainbow Six: Vegas and takes place along side the same timeline only with different events and characters.
Single Player
Edit
Scene 1: Negotiations
Scene 2: Ambush
Scene 1: Rooftops
Scene 2: Nightclub
Scene 3: Garage
Scene 4: Sweatshops
Scene 1: Gymnasium
Scene 2: Arena
Scene 3: Library
Scene 4: Chase
Scene 1: South Hall
Scene 2: Exhibition
Scene 3: North Hall
Scene 4: Monorail
Scene 1: Penthouse
Scene 2: Casino
Scene 3: Center Stage
Scene 4: Extraction
Scene 1: Drop Off
Scene 2: Furnaces
Scene 3: Refinery
Scene 4: Airstrip
Scene 1: Compound
Scene 2: Hacienda
Scene 3: Showdown
Other Modes
Edit
Cooperative Mode
Edit
Cooperative Mode is a split screen and online version of the regular single player storyline. This mode follows the exact same storyline of the single player version with a few additions in some minor cutscenes. When playing with two people the first player takes control of Bishop and the second player takes on the role of Knight. Like the single player story mode cooperative mode can be played on casual, normal or realistic difficulties. The experience points that are earned in cooperative mode count towards the overall progression of a players character. Cooperative mode can only be played with a maximum of two players.
Terrorist Hunt
Edit
Terrorist hunt is a game mode where players can go to certain locations to take out a set amount of enemy.By picking Low, Medium, or High Enemy Density. The game can be played on casual, normal and realistic difficulties apposed to only having normal and realistic difficulties like the first Rainbow Six: Vegas video game. When playing in single player, players can take control Mike and Jung just like in the story mode, as well as control them in the exact same way as well. Terrorist hunt missions can be done in split-screen as well, however, when playing both the split-screen and online versions of the game players will not be granted the use of the two AI teammates. Split-screen can only be played with a maximum of two players. When it comes to the online game mode for terrorist hunts anywhere from two to four players can play in a single lobby.
The experience points that are earned in a terrorist hunt game count towards the overall progression of a players character. The locations that are featured in the terrorist hunt missions are the exact same maps that are playable for the online multiplayer game modes. When setting up a terrorist hunt game there are many options to choose from such as the amount of time allowed, difficulty and the amount of enemies.
The maps that are used in the terrorist hunt game mode are the exact same maps that are played when in the online multiplayer mode. The game comes with twelve maps ready to play and there are four maps that are available for download. Three of the maps can be downloaded normally and one has to be downloaded in-game. To download the fourth map Streets, players must go to the main menu, go to the extra's menu and enter the "Exclusive Content" menu. From there players will be able to download the map as long as they have an active Ubisoft account.
Online Gameplay
Edit
Online gameplay is one of the features that Rainbow Six: Vegas 2 features. After connecting to the internet players can get together with up to sixteen players that can be split in between up to two teams. A list of the different locations and game modes can be seen below.
Online Game Modes
Edit
There are several online game modes that can be played. Both the cooperative story mode and the cooperative terrorist hunts can be played online. In the cooperative story mode a maximum of two players are allowed, but in the terrorist hunt mode players can play in a maximum group size of four players. For more information on cooperative mode and terrorist hunts see the missions section of this article. All other online game modes can be seen below.
Attack & Defend: Attack & defend is a game mode that can be played with up to sixteen players spit into two teams, attack and defend. Each team has a starting location on the map that is decided by which team they are on. The attackers rightfully need to get to a bomb that needs to be deactivated for their unit to win the match. The bomb also is the starting location for the defending team, who's only goal is to stop any member from the other team from neutralizing bomb at any cost. When a character dies they will automatically spawn back to the original location. The amount of spawns a player has may be limited. After diffusing the bomb a player must then carry the bomb back to their original spawn point for extraction. If a player gets killed while carrying the bomb it will drop in that exact location. Other attackers can pick up the bomb and continue to the extraction however the defenders are unable to manipulate the bomb in any way and as such need to adapt to the bomb's new location when it comes to setting up their defense plans. The game is over when either the bomb is extracted by the attackers or the timer on the defender's bomb runs out and is allowed to explode.
Survivor:
Survivor can be played with up to sixteen players with no teams assigned. The goal is to stay alive the longest, killing or avoiding anyone that they come across. The ultimate goal is to be the last man standing. The amount of respawns each person gets may be limited. After being killed your spawn location is random.
Team Survivor:
The goal for Team Survivor is much like Survivor, only instead of being the last person alive, the goal is to be the last team still alive. Once a character dies they will automatically spawn in their original location. The amount of respawns may be limited.
Sharpshooter:
Sharpshooter features up to sixteen players without teams who's only goal is to get the most amount of kills. The winners are placed in a list at the end of the match in the order of highest kills. After a character dies they will spawn randomly somewhere on the map.
Team Sharpshooter:
Team Sharpshoot, like Team Survivor, is exactly like it's counterpart. Two teams of up to sixteen players battle for the highest amount of kills. At the end of the match each player will be listed in the order of highest amount of kills, the total of which will decide the winning team. When a character dies they will spawn at their teams original location.
Multiplayer/Terrorist Hunt Maps
Edit
Original Release Maps
Edit
Downloadable Maps
Edit
Characters
Edit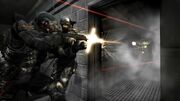 Bishop is the main character in the game. While Bishop can change appearances depending on the selected gender and outfit, however, Bishop is called 'sir' either way. Bishop is a high-ranking veteran of the Rainbow organization and previously was instructor at the organization's training academy. Bishop is referred five years after the first mission in the French Alps. He/she returns from retirement as team leader of Park and Walters. Bishop and Chavez are old friends and served together in the Army.
With co-op mode enabled, Knight accompanies Bishop on several missions, whose appearance also varies depending on how the player desires his or her outfit and gender. Playing as Knight also allows the player to unlock co-op achievements in the Xbox 360 version of the game.
The game's main antagonist, a traitorous former Rainbow operative revealed to be a mole during the events of Rainbow Six: Vegas.
The main protagonist of the previous game, Keller is seen in the opening level of the game, under Bishop's command along with Gabriel Nowak.
Team Rainbow
Edit
Team Rainbow is a multinational task force comprising counterterrorism experts from around the globe. Equipped with state-of-the-art weapons, Team Rainbow is deployed during terrorist crises. When all other attempts have failed, Rainbow is brought in to save the lives of innocent people. They do not negotiate with terror. They destroy it.
Rainbow began as an idea shared by John Clark and Domingo "Ding" Chavez. Clark, a former Navy SEAL and CIA operative, met Chavez during a covert operation in Colombia. During the operation, Chavez was rescued by Clark. After that mission, Chavez joined the Central Intelligence Agency. Clark and Chavez developed a mentor-student relationship over the course of several missions together.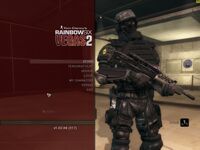 Rainbow was created in 2000. Ding Chavez was made a Team Leader and began recruiting counter-terrorism operatives immediately. Experts in close-quarters combat, demolitions, electronics, surveillances, and reconnaissance were recruited. Snipers, hackers, soldiers, policemen, and contractors were all brought to Hereford, England, where Rainbow shares its headquarters with the British Special Air Service. [1]
Domingo Chavez (USA; ex-United States Army Ranger, CIA, former leader of Rainbow Team 2). Chavez was promoted to Rainbow's Director in Rainbow Six: Critical Hour. He commanded Alpha Team in 2005 at the Píc des Pyreneés, France. - Rainbow Six
Alpha Team
Edit
Bravo Team
Edit
Bishop - Team Leader
Knight
Michael Walter three year tour in 40 Commando Royal Marines included the military evacuation of British nationals from the Democratic Republic of Congo and active operations in West Belfast.- Gunner/Explosives
Jung Park South Korean nationality, Jung Park's natural proficiency for computers drove him to serve his mandatory term in the ROK Army immediately after graduation. Park's high scores on electronics screening made him eligible for entry into the 1st Anti-Guerrilla Group. For two years, Park served as part of the 15th Security Battalion's signals unit. - Marksman/Electronics
Equipment
Edit
Submachine Guns
Edit
Light Machine Guns
Edit
Assault Rifles
Edit
Sniper Rifles
Edit
Other Weapons
Edit
Armor and Clothing
Edit
Players are able to create a custom character that can be used throughout every game mode in Rainbow Six: Vegas 2. Below is a list of the different types of armor that can be equipped.
Body Armor
Edit
Ballistic Combat vest
Falcon Assault Vest
Vulture Combat Vest
Raven Recon Vest
Raven Recon Vest
Goliath Assault Vest
Titan Combat Vest
Colossus Recon Vest
Anaconda Assault Vest
Diamondback Combat Vest
Viper Recon Vest
Hurricane Assault Vest
Shoulder Armor
Edit
Falcon Assault Shoulders
Vulture Combat Shoulders
Goliath Assault Shoulders
Colossus Recon Shoulders
Anaconda Assault Shoulders
Viper Recon Shoulders
Cyclone Combat Shoulders
Typhoon Recon Shoulders
Arm Armor
Edit
Vulture Combat Arms
Goliath Assault Arms
Titan Combat Arms
Colossus Recon Arms
Anaconda Assault Arms
Diamondback Combat Arms
Leg Armor
Edit
Falcon Assault Legs
Raven Recon Legs
Titan Combat Legs
Colossus Recon Legs
Anaconda Assault Legs
Diamondback Combat Legs
Viper Recon Legs
Cyclone Combat Legs
Head Gear
Edit
Ballistic Assault Helmet
Tuque
Boone Hat
Military Cap
Reversed Cap
Tactical Helmet
Lightweight Helmet
Bandana
Flight Helmet
Reinforced Helmet
Curved Boone Hat
Beret
Riot Helmet
Tactical Sunglasses
Retro Sunglasses
Ballistic Goggles
Tinted Goggles
Tactical Goggles
Night Vision Goggles
Face Gear
Edit
Breathing Mask
Half-Face Mask
Ballistic Face Mask
Chest Clothing
Edit
Tactical Vest
BDU (Batttle Dress Uniform) Shirt
High-Collar Shirt
Raid BDU (Batttle Dress Uniform)
Long Sleeve Shirt
Assault Vest
Tank Top
Leather Vest
Camouflage
Edit
Black Camo
Pale Blue Camo
ACU Camo
Olive Drab Camo
Woodland Camo
Snow Camo
Navy Camo
Desert Camo
Urban Camo
DPM Desert Camo
Cadpat Camo
Russian Camo
Guerrilla Camo
Fall Camo
Desert II Camo
Flecktarn Camo
Orange Camo
Swedish Camo
War2K5 Camo
Alpen Camo
White Camo
Blue Camo
Urban II Camo
Marpat Camo
Wasp Camo
Sand Camo
Crimson Camo
Yellow Camo (Unlocked at Major)
Red Camo (Unlocked at Major)
Tiger Camo (Unlocked at Major)
Rust Camo (Unlocked at Lieutenant Colonel)
Pink Camo (Unlocked at Lieutenant Colonel)
Grey Camo (Unlocked at Lieutenant Colonel)
Custom Camo (1-3) (Unlocked at Elite)
In every single game mode in Rainbow Six: Vegas 2 players build experience points. Experience points are built up by getting any type of kill. Once a player has built up enough experience points they will rank up and unlock new features for their character such as weapons, camouflage colors or armor selections. A list of the ranks that can be obtained can be seen below.
Downloadable Content
Edit
Ubisoft released a single map pack for Vegas 2 which is currently available for download at no cost. Aside from the map pack there is also a map that can be downloaded for free under the Comcast Gift menu. The Comcast Gift is a remake of the Streets map from Rainbow Six: Vegas.
External Links
Edit